Data consistency solution
This demo shows you how to use the Saga solution provided by ServiceComb to ensure the microservice for data consistency.
With microservice architecture, each of the services may have its own database technology and it's not feasible to ensure all transactions on these services are either committed or rolled back with database. In this demo, we make use of Saga to ensure eventual data consistency among services, the payment is only executed after car rental, flight booking, and hotel-reservation are completed.
Travel application demo including four services
flight booking service
car rental service
hotel reservation service
payment service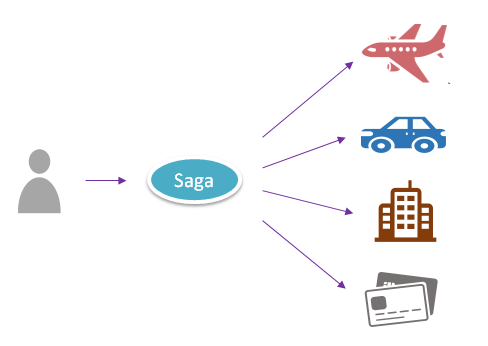 Running Demo
Note, demo is in the ServiceComb-Saga project.
Prerequisites

Configuration Set service center address of each microservice in microservice.yaml file

 

APPLICATION_ID

:

 

saga


 

service_description

:


   

name

:

 

flight-booking-service


   

version

:

 

0.0.1


 

servicecomb

:


   

service

:


     

registry

:


       

address

:

 

http://sc.servicecomb.io:30100

 

#choose Service Center provided by ServiceComb


   

rest

:


     

address

:

 

0.0.0.0:8080


   

handler

:


     

chain

:


       

Consumer

:


         

default

:

 

loadbalance




Set deployment script in saga-demo/docker-compose.yaml file

 

version

:

 

'

2.1'



 

services

:


   

service-center

:

 

#choose Service Center image provided by ServiceComb


     

image

:

 

"

servicecomb/service-center"


     

hostname

:

 

service-center


     

ports

:


       

-

 

"

30100:30100"



   

mysql

:

  

#choose mysql image with 5.7 version


     

image

:

 

"

mysql/mysql-server:5.7"


     

hostname

:

 

mysql


     

environment

:


       

-

 

MYSQL_ROOT_PASSWORD=password


       

-

 

MYSQL_DATABASE=saga


       

-

 

MYSQL_USER=saga


       

-

 

MYSQL_PASSWORD=password


     

ports

:


       

-

 

"

3306:3306"


     

healthcheck

:


         

test

:

 

[

"

CMD-SHELL"

,

 

"

nc

 

-z

 

localhost

 

3306

 

&>

 

/dev/null;

 

echo

 

$$?"

]


         

interval

:

 

30s


         

timeout

:

 

10s


         

retries

:

 

5



   

car-rental-service

:


     

image

:

 

"

car-rental-service:0.0.2-SNAPSHOT"


     

hostname

:

 

car


     

links

:


       

-

 

"

service-center:sc.servicecomb.io"


     

ports

:


       

-

 

"

8080:8080"



   

flight-booking-service

:


     

image

:

 

"

flight-booking-service:0.0.2-SNAPSHOT"


     

hostname

:

 

flight


     

links

:


       

-

 

"

service-center:sc.servicecomb.io"


     

ports

:


       

-

 

"

8081:8080"



   

hotel-reservation-service

:


     

image

:

 

"

hotel-reservation-service:0.0.2-SNAPSHOT"


     

hostname

:

 

hotel


     

links

:


       

-

 

"

service-center:sc.servicecomb.io"


     

ports

:


       

-

 

"

8082:8080"



   

payment-service

:


     

image

:

 

"

payment-service:0.0.2-SNAPSHOT"


     

hostname

:

 

payment


     

links

:


       

-

 

"

service-center:sc.servicecomb.io"


     

ports

:


       

-

 

"

8080"



   

saga

:


     

image

:

 

"

saga-spring:0.0.2-SNAPSHOT"


     

hostname

:

 

saga


     

links

:


       

-

 

"

mysql:mysql.servicecomb.io"


       

-

 

"

service-center:sc.servicecomb.io"


       

-

 

"

car-rental-service:car.servicecomb.io"


       

-

 

"

flight-booking-service:flight.servicecomb.io"


       

-

 

"

hotel-reservation-service:hotel.servicecomb.io"


       

-

 

"

payment-service:payment.servicecomb.io"


     

environment

:


       

-

 

JAVA_OPTS=-Dspring.profiles.active=prd,servicecomb -Dcse.service.registry.address=http://sc.servicecomb.io:30100


     

ports

:


       

-

 

"

8083:8080"


     

depends_on

:


       

mysql

:


         

condition

:

 

service_healthy




Run the following command to create docker images in saga project root folder

 mvn package -DskipTests -Pdocker -Pdemo


Start application up in saga/saga-demo/ with the following command
Verify services
Use Saga API to set request content and save it to request.json

 

{


   

"policy"

:

 

"BackwardRecovery"

,


   

"requests"

:

 

[


     

{


       

"id"

:

 

"request-car"

,


       

"type"

:

 

"rest"

,


       

"serviceName"

:

 

"car-rental-service"

,


       

"transaction"

:

 

{


         

"method"

:

 

"post"

,


         

"path"

:

 

"/rentals"

,


         

"params"

:

 

{


           

"form"

:

 

{


             

"customerId"

:

 

"mike"


           

}


         

}


       

},


       

"compensation"

:

 

{


         

"method"

:

 

"put"

,


         

"path"

:

 

"/rentals"

,


         

"params"

:

 

{


           

"form"

:

 

{


             

"customerId"

:

 

"mike"


           

}


         

}


       

}


     

},


     

{


       

"id"

:

 

"request-hotel"

,


       

"type"

:

 

"rest"

,


       

"serviceName"

:

 

"hotel-reservation-service"

,


       

"transaction"

:

 

{


         

"method"

:

 

"post"

,


         

"path"

:

 

"/reservations"

,


         

"params"

:

 

{


           

"form"

:

 

{


             

"customerId"

:

 

"mike"


           

}


         

}


       

},


       

"compensation"

:

 

{


         

"method"

:

 

"put"

,


         

"path"

:

 

"/reservations"

,


         

"params"

:

 

{


           

"form"

:

 

{


             

"customerId"

:

 

"mike"


           

}


         

}


       

}


     

},


     

{


       

"id"

:

 

"request-flight"

,


       

"type"

:

 

"rest"

,


       

"serviceName"

:

 

"flight-booking-service"

,


       

"transaction"

:

 

{


         

"method"

:

 

"post"

,


         

"path"

:

 

"/bookings"

,


         

"params"

:

 

{


           

"form"

:

 

{


             

"customerId"

:

 

"mike"


           

}


         

}


       

},


       

"compensation"

:

 

{


         

"method"

:

 

"put"

,


         

"path"

:

 

"/bookings"

,


         

"params"

:

 

{


           

"form"

:

 

{


             

"customerId"

:

 

"mike"


           

}


         

}


       

}


     

},


     

{


       

"id"

:

 

"request-payment"

,


       

"type"

:

 

"rest"

,


       

"serviceName"

:

 

"payment-service"

,


       

"parents"

:

 

[


         

"request-car"

,


         

"request-flight"

,


         

"request-hotel"


       

],


       

"transaction"

:

 

{


         

"method"

:

 

"post"

,


         

"path"

:

 

"/payments"

,


         

"params"

:

 

{


           

"form"

:

 

{


             

"customerId"

:

 

"mike"


           

}


         

}


       

},


       

"compensation"

:

 

{


         

"method"

:

 

"put"

,


         

"path"

:

 

"/payments"

,


         

"params"

:

 

{


           

"form"

:

 

{


             

"customerId"

:

 

"mike"


           

}


         

}


       

}


     

}


   

]


 

}




Set content type to text/plain, and send request.json to Saga

 curl -XPOST -H 

"Content-Type: text/plain"

 -d @./request.json  http://<localhost.ip:8083>/requests


Response(return "success" if execution successfully, otherwise return failed with error info)

Get all the Saga events

 curl -XGET http://<localhost.ip:8083>/events


Response

 

{


     

"bcd27f0d-6b82-49b3-8067-b16eba970e55"

: 

[


         

{


             

"id"

: 1,
             

"sagaId"

: 

"bcd27f0d-6b82-49b3-8067-b16eba970e55"

,
             

"creationTime"

: 

"2017-09-20T00:30:21Z"

,
             

"type"

: 

"SagaStartedEvent"

,
             

"contentJson"

: 

"{

\"

policy

\"

: 

\"

BackwardRecovery

\"

, 

\"

requests

\"

: [{

\"

id

\"

: 

\"

request-car

\"

, 

\"

type

\"

: 

\"

rest

\"

, 

\"

serviceName

\"

: 

\"

car-rental-service

\"

, 

\"

transaction

\"

: {

\"

path

\"

: 

\"

/rentals

\"

, 

\"

method

\"

: 

\"

post

\"

, 

\"

params

\"

: {

\"

form

\"

: {

\"

customerId

\"

: 

\"

mike

\"

}}}, 

\"

compensation

\"

: {

\"

path

\"

: 

\"

/rentals

\"

, 

\"

method

\"

: 

\"

put

\"

, 

\"

params

\"

: {

\"

form

\"

: {

\"

customerId

\"

: 

\"

mike

\"

}}}}, {

\"

id

\"

: 

\"

request-hotel

\"

, 

\"

type

\"

: 

\"

rest

\"

, 

\"

serviceName

\"

: 

\"

hotel-reservation-service

\"

, 

\"

transaction

\"

: {

\"

path

\"

: 

\"

/reservations

\"

, 

\"

method

\"

: 

\"

post

\"

, 

\"

params

\"

: {

\"

form

\"

: {

\"

customerId

\"

: 

\"

mike

\"

}}}, 

\"

compensation

\"

: {

\"

path

\"

: 

\"

/reservations

\"

, 

\"

method

\"

: 

\"

put

\"

, 

\"

params

\"

: {

\"

form

\"

: {

\"

customerId

\"

: 

\"

mike

\"

}}}}, {

\"

id

\"

: 

\"

request-flight

\"

, 

\"

type

\"

: 

\"

rest

\"

, 

\"

serviceName

\"

: 

\"

flight-booking-service

\"

, 

\"

transaction

\"

: {

\"

path

\"

: 

\"

/bookings

\"

, 

\"

method

\"

: 

\"

post

\"

, 

\"

params

\"

: {

\"

form

\"

: {

\"

customerId

\"

: 

\"

mike

\"

}}}, 

\"

compensation

\"

: {

\"

path

\"

: 

\"

/bookings

\"

, 

\"

method

\"

: 

\"

put

\"

, 

\"

params

\"

: {

\"

form

\"

: {

\"

customerId

\"

: 

\"

mike

\"

}}}}, {

\"

id

\"

: 

\"

request-payment

\"

, 

\"

type

\"

: 

\"

rest

\"

, 

\"

parents

\"

: [

\"

request-car

\"

, 

\"

request-flight

\"

, 

\"

request-hotel

\"

], 

\"

serviceName

\"

: 

\"

payment-service

\"

, 

\"

transaction

\"

: {

\"

path

\"

: 

\"

/payments

\"

, 

\"

method

\"

: 

\"

post

\"

, 

\"

params

\"

: {

\"

form

\"

: {

\"

customerId

\"

: 

\"

mike

\"

}}}, 

\"

compensation

\"

: {

\"

path

\"

: 

\"

/payments

\"

, 

\"

method

\"

: 

\"

put

\"

, 

\"

params

\"

: {

\"

form

\"

: {

\"

customerId

\"

: 

\"

mike

\"

}}}}]}"


         

}

,
         

{


             

"id"

: 2,
             

"sagaId"

: 

"bcd27f0d-6b82-49b3-8067-b16eba970e55"

,
             

"creationTime"

: 

"2017-09-20T00:30:21Z"

,
             

"type"

: 

"TransactionStartedEvent"

,
             

"contentJson"

: 

"{

\"

id

\"

: 

\"

request-hotel

\"

, 

\"

type

\"

: 

\"

rest

\"

, 

\"

parents

\"

: [], 

\"

fallback

\"

: {

\"

type

\"

: 

\"

NOP

\"

}, 

\"

serviceName

\"

: 

\"

hotel-reservation-service

\"

, 

\"

transaction

\"

: {

\"

path

\"

: 

\"

/reservations

\"

, 

\"

method

\"

: 

\"

post

\"

, 

\"

params

\"

: {

\"

form

\"

: {

\"

customerId

\"

: 

\"

mike

\"

}}}, 

\"

compensation

\"

: {

\"

path

\"

: 

\"

/reservations

\"

, 

\"

method

\"

: 

\"

put

\"

, 

\"

params

\"

: {

\"

form

\"

: {

\"

customerId

\"

: 

\"

mike

\"

}}, 

\"

retries

\"

: 3}}"


         

}

,
         

{


             

"id"

: 3,
             

"sagaId"

: 

"bcd27f0d-6b82-49b3-8067-b16eba970e55"

,
             

"creationTime"

: 

"2017-09-20T00:30:21Z"

,
             

"type"

: 

"TransactionStartedEvent"

,
             

"contentJson"

: 

"{

\"

id

\"

: 

\"

request-car

\"

, 

\"

type

\"

: 

\"

rest

\"

, 

\"

parents

\"

: [], 

\"

fallback

\"

: {

\"

type

\"

: 

\"

NOP

\"

}, 

\"

serviceName

\"

: 

\"

car-rental-service

\"

, 

\"

transaction

\"

: {

\"

path

\"

: 

\"

/rentals

\"

, 

\"

method

\"

: 

\"

post

\"

, 

\"

params

\"

: {

\"

form

\"

: {

\"

customerId

\"

: 

\"

mike

\"

}}}, 

\"

compensation

\"

: {

\"

path

\"

: 

\"

/rentals

\"

, 

\"

method

\"

: 

\"

put

\"

, 

\"

params

\"

: {

\"

form

\"

: {

\"

customerId

\"

: 

\"

mike

\"

}}, 

\"

retries

\"

: 3}}"


         

}

,
         

{


             

"id"

: 4,
             

"sagaId"

: 

"bcd27f0d-6b82-49b3-8067-b16eba970e55"

,
             

"creationTime"

: 

"2017-09-20T00:30:21Z"

,
             

"type"

: 

"TransactionStartedEvent"

,
             

"contentJson"

: 

"{

\"

id

\"

: 

\"

request-flight

\"

, 

\"

type

\"

: 

\"

rest

\"

, 

\"

parents

\"

: [], 

\"

fallback

\"

: {

\"

type

\"

: 

\"

NOP

\"

}, 

\"

serviceName

\"

: 

\"

flight-booking-service

\"

, 

\"

transaction

\"

: {

\"

path

\"

: 

\"

/bookings

\"

, 

\"

method

\"

: 

\"

post

\"

, 

\"

params

\"

: {

\"

form

\"

: {

\"

customerId

\"

: 

\"

mike

\"

}}}, 

\"

compensation

\"

: {

\"

path

\"

: 

\"

/bookings

\"

, 

\"

method

\"

: 

\"

put

\"

, 

\"

params

\"

: {

\"

form

\"

: {

\"

customerId

\"

: 

\"

mike

\"

}}, 

\"

retries

\"

: 3}}"


         

}

,
         

{


             

"id"

: 5,
             

"sagaId"

: 

"bcd27f0d-6b82-49b3-8067-b16eba970e55"

,
             

"creationTime"

: 

"2017-09-20T00:30:22Z"

,
             

"type"

: 

"TransactionEndedEvent"

,
             

"contentJson"

: 

"{

\"

request

\"

: {

\"

id

\"

: 

\"

request-flight

\"

, 

\"

type

\"

: 

\"

rest

\"

, 

\"

parents

\"

: [], 

\"

fallback

\"

: {

\"

type

\"

: 

\"

NOP

\"

}, 

\"

serviceName

\"

: 

\"

flight-booking-service

\"

, 

\"

transaction

\"

: {

\"

path

\"

: 

\"

/bookings

\"

, 

\"

method

\"

: 

\"

post

\"

, 

\"

params

\"

: {

\"

form

\"

: {

\"

customerId

\"

: 

\"

mike

\"

}}}, 

\"

compensation

\"

: {

\"

path

\"

: 

\"

/bookings

\"

, 

\"

method

\"

: 

\"

put

\"

, 

\"

params

\"

: {

\"

form

\"

: {

\"

customerId

\"

: 

\"

mike

\"

}}, 

\"

retries

\"

: 3}}, 

\"

response

\"

: {

\"

body

\"

: 

\"

{

\\

n  

\\\"

statusCode

\\\"

: 200,

\\

n  

\\\"

content

\\\"

: 

\\\"

Flight booked with id f249543b-765e-4e10-9ba3-74fe33d8af83 for customer mike

\\\"\\

n}

\"

}}"


         

}

,
         

{


             

"id"

: 6,
             

"sagaId"

: 

"bcd27f0d-6b82-49b3-8067-b16eba970e55"

,
             

"creationTime"

: 

"2017-09-20T00:30:24Z"

,
             

"type"

: 

"TransactionEndedEvent"

,
             

"contentJson"

: 

"{

\"

request

\"

: {

\"

id

\"

: 

\"

request-hotel

\"

, 

\"

type

\"

: 

\"

rest

\"

, 

\"

parents

\"

: [], 

\"

fallback

\"

: {

\"

type

\"

: 

\"

NOP

\"

}, 

\"

serviceName

\"

: 

\"

hotel-reservation-service

\"

, 

\"

transaction

\"

: {

\"

path

\"

: 

\"

/reservations

\"

, 

\"

method

\"

: 

\"

post

\"

, 

\"

params

\"

: {

\"

form

\"

: {

\"

customerId

\"

: 

\"

mike

\"

}}}, 

\"

compensation

\"

: {

\"

path

\"

: 

\"

/reservations

\"

, 

\"

method

\"

: 

\"

put

\"

, 

\"

params

\"

: {

\"

form

\"

: {

\"

customerId

\"

: 

\"

mike

\"

}}, 

\"

retries

\"

: 3}}, 

\"

response

\"

: {

\"

body

\"

: 

\"

{

\\

n  

\\\"

statusCode

\\\"

: 200,

\\

n  

\\\"

content

\\\"

: 

\\\"

Hotel reserved with id f74049a0-3d3d-49b6-a45b-058a409daecf for customer mike

\\\"\\

n}

\"

}}"


         

}

,
         

{


             

"id"

: 7,
             

"sagaId"

: 

"bcd27f0d-6b82-49b3-8067-b16eba970e55"

,
             

"creationTime"

: 

"2017-09-20T00:30:25Z"

,
             

"type"

: 

"TransactionEndedEvent"

,
             

"contentJson"

: 

"{

\"

request

\"

: {

\"

id

\"

: 

\"

request-car

\"

, 

\"

type

\"

: 

\"

rest

\"

, 

\"

parents

\"

: [], 

\"

fallback

\"

: {

\"

type

\"

: 

\"

NOP

\"

}, 

\"

serviceName

\"

: 

\"

car-rental-service

\"

, 

\"

transaction

\"

: {

\"

path

\"

: 

\"

/rentals

\"

, 

\"

method

\"

: 

\"

post

\"

, 

\"

params

\"

: {

\"

form

\"

: {

\"

customerId

\"

: 

\"

mike

\"

}}}, 

\"

compensation

\"

: {

\"

path

\"

: 

\"

/rentals

\"

, 

\"

method

\"

: 

\"

put

\"

, 

\"

params

\"

: {

\"

form

\"

: {

\"

customerId

\"

: 

\"

mike

\"

}}, 

\"

retries

\"

: 3}}, 

\"

response

\"

: {

\"

body

\"

: 

\"

{

\\

n  

\\\"

statusCode

\\\"

: 200,

\\

n  

\\\"

content

\\\"

: 

\\\"

Car rented with id 937d7364-be07-4d47-9e01-af72290d0478 for customer mike

\\\"\\

n}

\"

}}"


         

}

,
         

{


             

"id"

: 8,
             

"sagaId"

: 

"bcd27f0d-6b82-49b3-8067-b16eba970e55"

,
             

"creationTime"

: 

"2017-09-20T00:30:25Z"

,
             

"type"

: 

"TransactionStartedEvent"

,
             

"contentJson"

: 

"{

\"

id

\"

: 

\"

request-payment

\"

, 

\"

type

\"

: 

\"

rest

\"

, 

\"

parents

\"

: [

\"

request-car

\"

, 

\"

request-flight

\"

, 

\"

request-hotel

\"

], 

\"

fallback

\"

: {

\"

type

\"

: 

\"

NOP

\"

}, 

\"

serviceName

\"

: 

\"

payment-service

\"

, 

\"

transaction

\"

: {

\"

path

\"

: 

\"

/payments

\"

, 

\"

method

\"

: 

\"

post

\"

, 

\"

params

\"

: {

\"

form

\"

: {

\"

customerId

\"

: 

\"

mike

\"

}}}, 

\"

compensation

\"

: {

\"

path

\"

: 

\"

/payments

\"

, 

\"

method

\"

: 

\"

put

\"

, 

\"

params

\"

: {

\"

form

\"

: {

\"

customerId

\"

: 

\"

mike

\"

}}, 

\"

retries

\"

: 3}}"


         

}

,
         

{


             

"id"

: 9,
             

"sagaId"

: 

"bcd27f0d-6b82-49b3-8067-b16eba970e55"

,
             

"creationTime"

: 

"2017-09-20T00:30:25Z"

,
             

"type"

: 

"TransactionEndedEvent"

,
             

"contentJson"

: 

"{

\"

request

\"

: {

\"

id

\"

: 

\"

request-payment

\"

, 

\"

type

\"

: 

\"

rest

\"

, 

\"

parents

\"

: [

\"

request-car

\"

, 

\"

request-flight

\"

, 

\"

request-hotel

\"

], 

\"

fallback

\"

: {

\"

type

\"

: 

\"

NOP

\"

}, 

\"

serviceName

\"

: 

\"

payment-service

\"

, 

\"

transaction

\"

: {

\"

path

\"

: 

\"

/payments

\"

, 

\"

method

\"

: 

\"

post

\"

, 

\"

params

\"

: {

\"

form

\"

: {

\"

customerId

\"

: 

\"

mike

\"

}}}, 

\"

compensation

\"

: {

\"

path

\"

: 

\"

/payments

\"

, 

\"

method

\"

: 

\"

put

\"

, 

\"

params

\"

: {

\"

form

\"

: {

\"

customerId

\"

: 

\"

mike

\"

}}, 

\"

retries

\"

: 3}}, 

\"

response

\"

: {

\"

body

\"

: 

\"

{

\\

n  

\\\"

statusCode

\\\"

: 200,

\\

n  

\\\"

content

\\\"

: 

\\\"

Payment made for customer mike and remaining balance is 200

\\\"\\

n}

\"

}}"


         

}

,
         

{


             

"id"

: 10,
             

"sagaId"

: 

"bcd27f0d-6b82-49b3-8067-b16eba970e55"

,
             

"creationTime"

: 

"2017-09-20T00:30:25Z"

,
             

"type"

: 

"SagaEndedEvent"

,
             

"contentJson"

: 

"{}"


         

}


 	

]


 

}




Sending the request more than once will trigger compensation due to insufficient account balance in payment-service.Do this implement and get Saga events, you can find compensation events in Saga log.

 

{


     

"bcd27f0d-6b82-49b3-8067-b16eba970e55"

: 

[


         ...
     

]

,
     

"2654fa50-71e2-4fc8-afc2-6a5e0d3dafe9"

: 

[


         

{


             

"id"

: 11,
             

"sagaId"

: 

"2654fa50-71e2-4fc8-afc2-6a5e0d3dafe9"

,
             

"creationTime"

: 

"2017-09-20T00:30:45Z"

,
             

"type"

: 

"SagaStartedEvent"

,
             

"contentJson"

: 

"{

\"

policy

\"

: 

\"

BackwardRecovery

\"

, 

\"

requests

\"

: [{

\"

id

\"

: 

\"

request-car

\"

, 

\"

type

\"

: 

\"

rest

\"

, 

\"

serviceName

\"

: 

\"

car-rental-service

\"

, 

\"

transaction

\"

: {

\"

path

\"

: 

\"

/rentals

\"

, 

\"

method

\"

: 

\"

post

\"

, 

\"

params

\"

: {

\"

form

\"

: {

\"

customerId

\"

: 

\"

mike

\"

}}}, 

\"

compensation

\"

: {

\"

path

\"

: 

\"

/rentals

\"

, 

\"

method

\"

: 

\"

put

\"

, 

\"

params

\"

: {

\"

form

\"

: {

\"

customerId

\"

: 

\"

mike

\"

}}}}, {

\"

id

\"

: 

\"

request-hotel

\"

, 

\"

type

\"

: 

\"

rest

\"

, 

\"

serviceName

\"

: 

\"

hotel-reservation-service

\"

, 

\"

transaction

\"

: {

\"

path

\"

: 

\"

/reservations

\"

, 

\"

method

\"

: 

\"

post

\"

, 

\"

params

\"

: {

\"

form

\"

: {

\"

customerId

\"

: 

\"

mike

\"

}}}, 

\"

compensation

\"

: {

\"

path

\"

: 

\"

/reservations

\"

, 

\"

method

\"

: 

\"

put

\"

, 

\"

params

\"

: {

\"

form

\"

: {

\"

customerId

\"

: 

\"

mike

\"

}}}}, {

\"

id

\"

: 

\"

request-flight

\"

, 

\"

type

\"

: 

\"

rest

\"

, 

\"

serviceName

\"

: 

\"

flight-booking-service

\"

, 

\"

transaction

\"

: {

\"

path

\"

: 

\"

/bookings

\"

, 

\"

method

\"

: 

\"

post

\"

, 

\"

params

\"

: {

\"

form

\"

: {

\"

customerId

\"

: 

\"

mike

\"

}}}, 

\"

compensation

\"

: {

\"

path

\"

: 

\"

/bookings

\"

, 

\"

method

\"

: 

\"

put

\"

, 

\"

params

\"

: {

\"

form

\"

: {

\"

customerId

\"

: 

\"

mike

\"

}}}}, {

\"

id

\"

: 

\"

request-payment

\"

, 

\"

type

\"

: 

\"

rest

\"

, 

\"

parents

\"

: [

\"

request-car

\"

, 

\"

request-flight

\"

, 

\"

request-hotel

\"

], 

\"

serviceName

\"

: 

\"

payment-service

\"

, 

\"

transaction

\"

: {

\"

path

\"

: 

\"

/payments

\"

, 

\"

method

\"

: 

\"

post

\"

, 

\"

params

\"

: {

\"

form

\"

: {

\"

customerId

\"

: 

\"

mike

\"

}}}, 

\"

compensation

\"

: {

\"

path

\"

: 

\"

/payments

\"

, 

\"

method

\"

: 

\"

put

\"

, 

\"

params

\"

: {

\"

form

\"

: {

\"

customerId

\"

: 

\"

mike

\"

}}}}]}"


         

}

,
         

{


             

"id"

: 12,
             

"sagaId"

: 

"2654fa50-71e2-4fc8-afc2-6a5e0d3dafe9"

,
             

"creationTime"

: 

"2017-09-20T00:30:45Z"

,
             

"type"

: 

"TransactionStartedEvent"

,
             

"contentJson"

: 

"{

\"

id

\"

: 

\"

request-car

\"

, 

\"

type

\"

: 

\"

rest

\"

, 

\"

parents

\"

: [], 

\"

fallback

\"

: {

\"

type

\"

: 

\"

NOP

\"

}, 

\"

serviceName

\"

: 

\"

car-rental-service

\"

, 

\"

transaction

\"

: {

\"

path

\"

: 

\"

/rentals

\"

, 

\"

method

\"

: 

\"

post

\"

, 

\"

params

\"

: {

\"

form

\"

: {

\"

customerId

\"

: 

\"

mike

\"

}}}, 

\"

compensation

\"

: {

\"

path

\"

: 

\"

/rentals

\"

, 

\"

method

\"

: 

\"

put

\"

, 

\"

params

\"

: {

\"

form

\"

: {

\"

customerId

\"

: 

\"

mike

\"

}}, 

\"

retries

\"

: 3}}"


         

}

,
         

{


             

"id"

: 13,
             

"sagaId"

: 

"2654fa50-71e2-4fc8-afc2-6a5e0d3dafe9"

,
             

"creationTime"

: 

"2017-09-20T00:30:45Z"

,
             

"type"

: 

"TransactionStartedEvent"

,
             

"contentJson"

: 

"{

\"

id

\"

: 

\"

request-hotel

\"

, 

\"

type

\"

: 

\"

rest

\"

, 

\"

parents

\"

: [], 

\"

fallback

\"

: {

\"

type

\"

: 

\"

NOP

\"

}, 

\"

serviceName

\"

: 

\"

hotel-reservation-service

\"

, 

\"

transaction

\"

: {

\"

path

\"

: 

\"

/reservations

\"

, 

\"

method

\"

: 

\"

post

\"

, 

\"

params

\"

: {

\"

form

\"

: {

\"

customerId

\"

: 

\"

mike

\"

}}}, 

\"

compensation

\"

: {

\"

path

\"

: 

\"

/reservations

\"

, 

\"

method

\"

: 

\"

put

\"

, 

\"

params

\"

: {

\"

form

\"

: {

\"

customerId

\"

: 

\"

mike

\"

}}, 

\"

retries

\"

: 3}}"


         

}

,
         

{


             

"id"

: 14,
             

"sagaId"

: 

"2654fa50-71e2-4fc8-afc2-6a5e0d3dafe9"

,
             

"creationTime"

: 

"2017-09-20T00:30:45Z"

,
             

"type"

: 

"TransactionStartedEvent"

,
             

"contentJson"

: 

"{

\"

id

\"

: 

\"

request-flight

\"

, 

\"

type

\"

: 

\"

rest

\"

, 

\"

parents

\"

: [], 

\"

fallback

\"

: {

\"

type

\"

: 

\"

NOP

\"

}, 

\"

serviceName

\"

: 

\"

flight-booking-service

\"

, 

\"

transaction

\"

: {

\"

path

\"

: 

\"

/bookings

\"

, 

\"

method

\"

: 

\"

post

\"

, 

\"

params

\"

: {

\"

form

\"

: {

\"

customerId

\"

: 

\"

mike

\"

}}}, 

\"

compensation

\"

: {

\"

path

\"

: 

\"

/bookings

\"

, 

\"

method

\"

: 

\"

put

\"

, 

\"

params

\"

: {

\"

form

\"

: {

\"

customerId

\"

: 

\"

mike

\"

}}, 

\"

retries

\"

: 3}}"


         

}

,
         

{


             

"id"

: 15,
             

"sagaId"

: 

"2654fa50-71e2-4fc8-afc2-6a5e0d3dafe9"

,
             

"creationTime"

: 

"2017-09-20T00:30:45Z"

,
             

"type"

: 

"TransactionEndedEvent"

,
             

"contentJson"

: 

"{

\"

request

\"

: {

\"

id

\"

: 

\"

request-car

\"

, 

\"

type

\"

: 

\"

rest

\"

, 

\"

parents

\"

: [], 

\"

fallback

\"

: {

\"

type

\"

: 

\"

NOP

\"

}, 

\"

serviceName

\"

: 

\"

car-rental-service

\"

, 

\"

transaction

\"

: {

\"

path

\"

: 

\"

/rentals

\"

, 

\"

method

\"

: 

\"

post

\"

, 

\"

params

\"

: {

\"

form

\"

: {

\"

customerId

\"

: 

\"

mike

\"

}}}, 

\"

compensation

\"

: {

\"

path

\"

: 

\"

/rentals

\"

, 

\"

method

\"

: 

\"

put

\"

, 

\"

params

\"

: {

\"

form

\"

: {

\"

customerId

\"

: 

\"

mike

\"

}}, 

\"

retries

\"

: 3}}, 

\"

response

\"

: {

\"

body

\"

: 

\"

{

\\

n  

\\\"

statusCode

\\\"

: 200,

\\

n  

\\\"

content

\\\"

: 

\\\"

Car rented with id 75f4be4b-0d32-4bbb-b786-7b39c340682a for customer mike

\\\"\\

n}

\"

}}"


         

}

,
         

{


             

"id"

: 16,
             

"sagaId"

: 

"2654fa50-71e2-4fc8-afc2-6a5e0d3dafe9"

,
             

"creationTime"

: 

"2017-09-20T00:30:45Z"

,
             

"type"

: 

"TransactionEndedEvent"

,
             

"contentJson"

: 

"{

\"

request

\"

: {

\"

id

\"

: 

\"

request-hotel

\"

, 

\"

type

\"

: 

\"

rest

\"

, 

\"

parents

\"

: [], 

\"

fallback

\"

: {

\"

type

\"

: 

\"

NOP

\"

}, 

\"

serviceName

\"

: 

\"

hotel-reservation-service

\"

, 

\"

transaction

\"

: {

\"

path

\"

: 

\"

/reservations

\"

, 

\"

method

\"

: 

\"

post

\"

, 

\"

params

\"

: {

\"

form

\"

: {

\"

customerId

\"

: 

\"

mike

\"

}}}, 

\"

compensation

\"

: {

\"

path

\"

: 

\"

/reservations

\"

, 

\"

method

\"

: 

\"

put

\"

, 

\"

params

\"

: {

\"

form

\"

: {

\"

customerId

\"

: 

\"

mike

\"

}}, 

\"

retries

\"

: 3}}, 

\"

response

\"

: {

\"

body

\"

: 

\"

{

\\

n  

\\\"

statusCode

\\\"

: 200,

\\

n  

\\\"

content

\\\"

: 

\\\"

Hotel reserved with id 7ad11c00-25eb-4b4b-b1fb-b55d4e833f51 for customer mike

\\\"\\

n}

\"

}}"


         

}

,
         

{


             

"id"

: 17,
             

"sagaId"

: 

"2654fa50-71e2-4fc8-afc2-6a5e0d3dafe9"

,
             

"creationTime"

: 

"2017-09-20T00:30:45Z"

,
             

"type"

: 

"TransactionEndedEvent"

,
             

"contentJson"

: 

"{

\"

request

\"

: {

\"

id

\"

: 

\"

request-flight

\"

, 

\"

type

\"

: 

\"

rest

\"

, 

\"

parents

\"

: [], 

\"

fallback

\"

: {

\"

type

\"

: 

\"

NOP

\"

}, 

\"

serviceName

\"

: 

\"

flight-booking-service

\"

, 

\"

transaction

\"

: {

\"

path

\"

: 

\"

/bookings

\"

, 

\"

method

\"

: 

\"

post

\"

, 

\"

params

\"

: {

\"

form

\"

: {

\"

customerId

\"

: 

\"

mike

\"

}}}, 

\"

compensation

\"

: {

\"

path

\"

: 

\"

/bookings

\"

, 

\"

method

\"

: 

\"

put

\"

, 

\"

params

\"

: {

\"

form

\"

: {

\"

customerId

\"

: 

\"

mike

\"

}}, 

\"

retries

\"

: 3}}, 

\"

response

\"

: {

\"

body

\"

: 

\"

{

\\

n  

\\\"

statusCode

\\\"

: 200,

\\

n  

\\\"

content

\\\"

: 

\\\"

Flight booked with id 1a40d7bf-ee66-46d1-b066-a9973f15176a for customer mike

\\\"\\

n}

\"

}}"


         

}

,
         

{


             

"id"

: 18,
             

"sagaId"

: 

"2654fa50-71e2-4fc8-afc2-6a5e0d3dafe9"

,
             

"creationTime"

: 

"2017-09-20T00:30:45Z"

,
             

"type"

: 

"TransactionStartedEvent"

,
             

"contentJson"

: 

"{

\"

id

\"

: 

\"

request-payment

\"

, 

\"

type

\"

: 

\"

rest

\"

, 

\"

parents

\"

: [

\"

request-car

\"

, 

\"

request-flight

\"

, 

\"

request-hotel

\"

], 

\"

fallback

\"

: {

\"

type

\"

: 

\"

NOP

\"

}, 

\"

serviceName

\"

: 

\"

payment-service

\"

, 

\"

transaction

\"

: {

\"

path

\"

: 

\"

/payments

\"

, 

\"

method

\"

: 

\"

post

\"

, 

\"

params

\"

: {

\"

form

\"

: {

\"

customerId

\"

: 

\"

mike

\"

}}}, 

\"

compensation

\"

: {

\"

path

\"

: 

\"

/payments

\"

, 

\"

method

\"

: 

\"

put

\"

, 

\"

params

\"

: {

\"

form

\"

: {

\"

customerId

\"

: 

\"

mike

\"

}}, 

\"

retries

\"

: 3}}"


         

}

,
         

{


             

"id"

: 19,
             

"sagaId"

: 

"2654fa50-71e2-4fc8-afc2-6a5e0d3dafe9"

,
             

"creationTime"

: 

"2017-09-20T00:31:15Z"

,
             

"type"

: 

"TransactionAbortedEvent"

,
             

"contentJson"

: 

"{

\"

request

\"

: {

\"

id

\"

: 

\"

request-payment

\"

, 

\"

type

\"

: 

\"

rest

\"

, 

\"

parents

\"

: [

\"

request-car

\"

, 

\"

request-flight

\"

, 

\"

request-hotel

\"

], 

\"

fallback

\"

: {

\"

type

\"

: 

\"

NOP

\"

}, 

\"

serviceName

\"

: 

\"

payment-service

\"

, 

\"

transaction

\"

: {

\"

path

\"

: 

\"

/payments

\"

, 

\"

method

\"

: 

\"

post

\"

, 

\"

params

\"

: {

\"

form

\"

: {

\"

customerId

\"

: 

\"

mike

\"

}}}, 

\"

compensation

\"

: {

\"

path

\"

: 

\"

/payments

\"

, 

\"

method

\"

: 

\"

put

\"

, 

\"

params

\"

: {

\"

form

\"

: {

\"

customerId

\"

: 

\"

mike

\"

}}, 

\"

retries

\"

: 3}}, 

\"

response

\"

: {

\"

body

\"

: 

\"

{

\\

n  

\\\"

body

\\\"

: 

\\\"

org.apache.servicecomb.saga.core.TransactionFailedException: The remote service payment-service failed to serve the post request to /payments 

\\

n

\\

tat org.apache.servicecomb.saga.discovery.service.center.ServiceCenterDiscoveryRestTransport.with(ServiceCenterDiscoveryRestTransport.java:81)

\\

n

\\

tat org.apache.servicecomb.saga.format.JacksonRestOperation.send(JacksonRestOperation.java:43)

\\

n

\\

tat org.apache.servicecomb.saga.format.JacksonRestTransaction.send(JacksonRestTransaction.java:24)

\\

n

\\

tat org.apache.servicecomb.saga.core.RequestProcessTask.commit(RequestProcessTask.java:45)

\\

n

\\

tat org.apache.servicecomb.saga.core.BackwardRecovery.apply(BackwardRecovery.java:33)

\\

n

\\

tat org.apache.servicecomb.saga.core.LoggingRecoveryPolicy.apply(LoggingRecoveryPolicy.java:38)

\\

n

\\

tat org.apache.servicecomb.saga.core.TransactionTaskConsumer

$OperationCallable

.call(TransactionTaskConsumer.java:110)

\\

n

\\

tat org.apache.servicecomb.saga.core.TransactionTaskConsumer

$OperationCallable

.call(TransactionTaskConsumer.java:94)

\\

n

\\

tat java.util.concurrent.FutureTask.run(FutureTask.java:266)

\\

n

\\

tat java.util.concurrent.Executors

$RunnableAdapter

.call(Executors.java:511)

\\

n

\\

tat java.util.concurrent.FutureTask.run(FutureTask.java:266)

\\

n

\\

tat java.util.concurrent.ThreadPoolExecutor.runWorker(ThreadPoolExecutor.java:1142)

\\

n

\\

tat java.util.concurrent.ThreadPoolExecutor

$Worker

.run(ThreadPoolExecutor.java:617)

\\

n

\\

tat java.lang.Thread.run(Thread.java:748)

\\

nCaused by: InvocationException: code=490;msg=CommonExceptionData [message=Cse Internal Bad Request]

\\

n

\\

tat org.apache.servicecomb.swagger.invocation.exception.ExceptionFactory.doCreate(ExceptionFactory.java:74)

\\

n

\\

tat org.apache.servicecomb.swagger.invocation.exception.ExceptionFactory.convertException(ExceptionFactory.java:119)

\\

n

\\

tat org.apache.servicecomb.swagger.invocation.exception.ExceptionFactory.convertConsumerException(ExceptionFactory.java:78)

\\

n

\\

tat org.apache.servicecomb.swagger.invocation.Response.createConsumerFail(Response.java:128)

\\

n

\\

tat org.apache.servicecomb.swagger.invocation.Response.createFail(Response.java:121)

\\

n

\\

tat org.apache.servicecomb.swagger.invocation.AsyncResponse.fail(AsyncResponse.java:41)

\\

n

\\

tat org.apache.servicecomb.transport.rest.client.http.VertxHttpMethod.lambda

$doMethod$0

(VertxHttpMethod.java:67)

\\

n

\\

tat io.vertx.core.http.impl.HttpClientRequestBase.handleException(HttpClientRequestBase.java:110)

\\

n

\\

tat io.vertx.core.http.impl.HttpClientRequestImpl.handleException(HttpClientRequestImpl.java:50)

\\

n

\\

tat io.vertx.core.http.impl.HttpClientRequestBase.timeout(HttpClientRequestBase.java:155)

\\

n

\\

tat io.vertx.core.http.impl.HttpClientRequestBase.handleTimeout(HttpClientRequestBase.java:140)

\\

n

\\

tat io.vertx.core.http.impl.HttpClientRequestBase.lambda

$setTimeout$0

(HttpClientRequestBase.java:100)

\\

n

\\

tat io.vertx.core.impl.VertxImpl

$InternalTimerHandler

.handle(VertxImpl.java:782)

\\

n

\\

tat io.vertx.core.impl.VertxImpl

$InternalTimerHandler

.handle(VertxImpl.java:753)

\\

n

\\

tat io.vertx.core.impl.ContextImpl.lambda

$wrapTask$2

(ContextImpl.java:316)

\\

n

\\

tat io.netty.util.concurrent.AbstractEventExecutor.safeExecute(AbstractEventExecutor.java:163)

\\

n

\\

tat io.netty.util.concurrent.SingleThreadEventExecutor.runAllTasks(SingleThreadEventExecutor.java:418)

\\

n

\\

tat io.netty.channel.nio.NioEventLoop.run(NioEventLoop.java:440)

\\

n

\\

tat io.netty.util.concurrent.SingleThreadEventExecutor

$5

.run(SingleThreadEventExecutor.java:873)

\\

n

\\

t... 1 more

\\

nCaused by: java.util.concurrent.TimeoutException: The timeout period of 30000ms has been exceeded

\\

n

\\

t... 11 more

\\

n

\\\"\\

n}

\"

}}"


         

}

,
         

{


             

"id"

: 20,
             

"sagaId"

: 

"2654fa50-71e2-4fc8-afc2-6a5e0d3dafe9"

,
             

"creationTime"

: 

"2017-09-20T00:31:15Z"

,
             

"type"

: 

"TransactionCompensatedEvent"

,
             

"contentJson"

: 

"{

\"

request

\"

: {

\"

id

\"

: 

\"

request-car

\"

, 

\"

type

\"

: 

\"

rest

\"

, 

\"

parents

\"

: [], 

\"

fallback

\"

: {

\"

type

\"

: 

\"

NOP

\"

}, 

\"

serviceName

\"

: 

\"

car-rental-service

\"

, 

\"

transaction

\"

: {

\"

path

\"

: 

\"

/rentals

\"

, 

\"

method

\"

: 

\"

post

\"

, 

\"

params

\"

: {

\"

form

\"

: {

\"

customerId

\"

: 

\"

mike

\"

}}}, 

\"

compensation

\"

: {

\"

path

\"

: 

\"

/rentals

\"

, 

\"

method

\"

: 

\"

put

\"

, 

\"

params

\"

: {

\"

form

\"

: {

\"

customerId

\"

: 

\"

mike

\"

}}, 

\"

retries

\"

: 3}}, 

\"

response

\"

: {

\"

body

\"

: 

\"

{

\\

n  

\\\"

statusCode

\\\"

: 200,

\\

n  

\\\"

content

\\\"

: 

\\\"

Car rental cancelled with id 38bc5913-6768-4321-add3-6d26db364c19 for customer mike

\\\"\\

n}

\"

}}"


         

}

,
         

{


             

"id"

: 21,
             

"sagaId"

: 

"2654fa50-71e2-4fc8-afc2-6a5e0d3dafe9"

,
             

"creationTime"

: 

"2017-09-20T00:31:15Z"

,
             

"type"

: 

"TransactionCompensatedEvent"

,
             

"contentJson"

: 

"{

\"

request

\"

: {

\"

id

\"

: 

\"

request-hotel

\"

, 

\"

type

\"

: 

\"

rest

\"

, 

\"

parents

\"

: [], 

\"

fallback

\"

: {

\"

type

\"

: 

\"

NOP

\"

}, 

\"

serviceName

\"

: 

\"

hotel-reservation-service

\"

, 

\"

transaction

\"

: {

\"

path

\"

: 

\"

/reservations

\"

, 

\"

method

\"

: 

\"

post

\"

, 

\"

params

\"

: {

\"

form

\"

: {

\"

customerId

\"

: 

\"

mike

\"

}}}, 

\"

compensation

\"

: {

\"

path

\"

: 

\"

/reservations

\"

, 

\"

method

\"

: 

\"

put

\"

, 

\"

params

\"

: {

\"

form

\"

: {

\"

customerId

\"

: 

\"

mike

\"

}}, 

\"

retries

\"

: 3}}, 

\"

response

\"

: {

\"

body

\"

: 

\"

{

\\

n  

\\\"

statusCode

\\\"

: 200,

\\

n  

\\\"

content

\\\"

: 

\\\"

Hotel reservation cancelled with id efcff718-fb74-4b70-a2e2-689ecb42206d for customer mike

\\\"\\

n}

\"

}}"


         

}

,
         

{


             

"id"

: 22,
             

"sagaId"

: 

"2654fa50-71e2-4fc8-afc2-6a5e0d3dafe9"

,
             

"creationTime"

: 

"2017-09-20T00:31:15Z"

,
             

"type"

: 

"TransactionCompensatedEvent"

,
             

"contentJson"

: 

"{

\"

request

\"

: {

\"

id

\"

: 

\"

request-flight

\"

, 

\"

type

\"

: 

\"

rest

\"

, 

\"

parents

\"

: [], 

\"

fallback

\"

: {

\"

type

\"

: 

\"

NOP

\"

}, 

\"

serviceName

\"

: 

\"

flight-booking-service

\"

, 

\"

transaction

\"

: {

\"

path

\"

: 

\"

/bookings

\"

, 

\"

method

\"

: 

\"

post

\"

, 

\"

params

\"

: {

\"

form

\"

: {

\"

customerId

\"

: 

\"

mike

\"

}}}, 

\"

compensation

\"

: {

\"

path

\"

: 

\"

/bookings

\"

, 

\"

method

\"

: 

\"

put

\"

, 

\"

params

\"

: {

\"

form

\"

: {

\"

customerId

\"

: 

\"

mike

\"

}}, 

\"

retries

\"

: 3}}, 

\"

response

\"

: {

\"

body

\"

: 

\"

{

\\

n  

\\\"

statusCode

\\\"

: 200,

\\

n  

\\\"

content

\\\"

: 

\\\"

Flight booking cancelled with id 37572464-6f53-4351-aa37-5f88e3f1f872 for customer mike

\\\"\\

n}

\"

}}"


         

}

,
         

{


             

"id"

: 23,
             

"sagaId"

: 

"2654fa50-71e2-4fc8-afc2-6a5e0d3dafe9"

,
             

"creationTime"

: 

"2017-09-20T00:31:15Z"

,
             

"type"

: 

"SagaEndedEvent"

,
             

"contentJson"

: 

"{}"


         

}


     

]


 

}



What's next